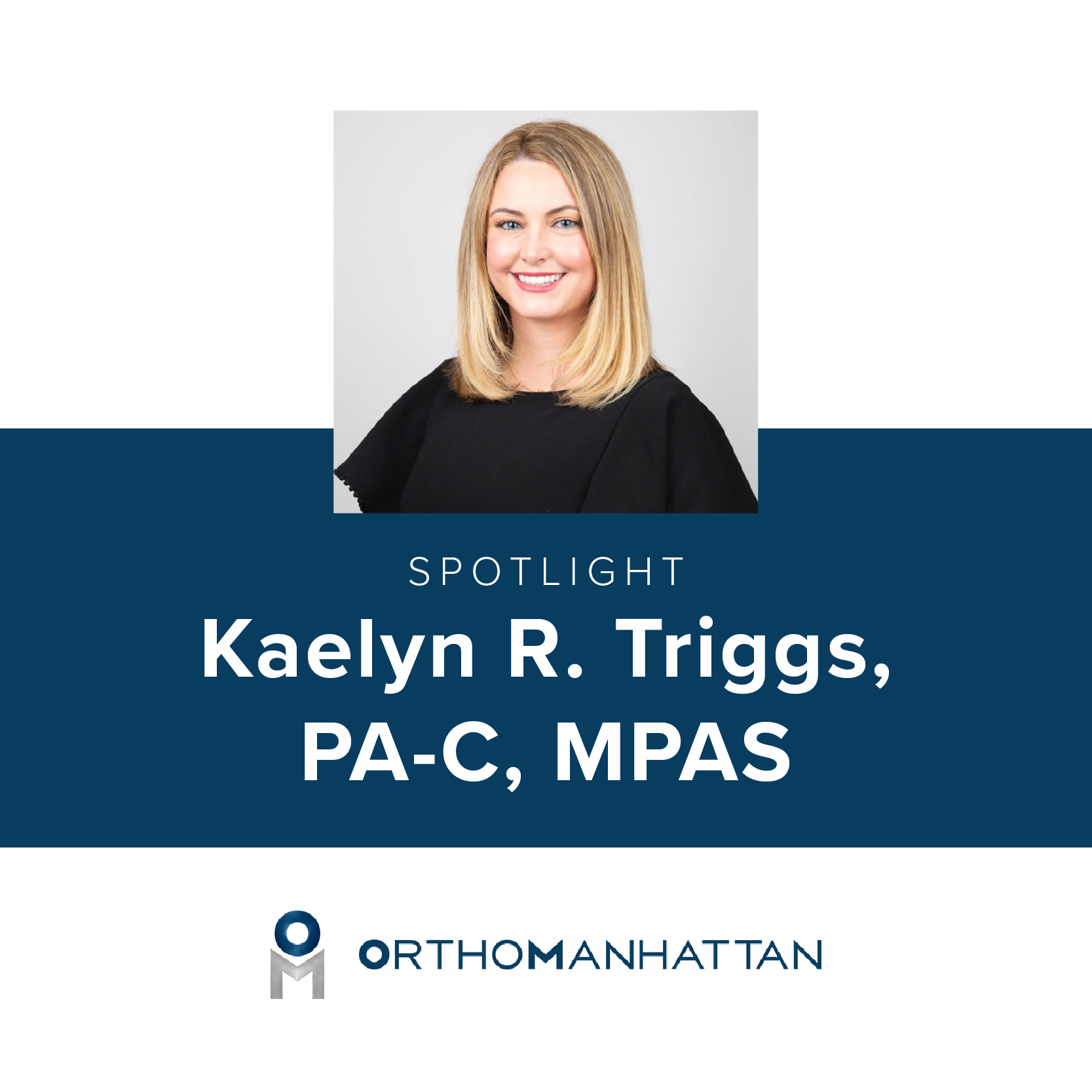 OrthoManhattan is a multi-specialty orthopedic surgery practice that brings together an outstanding group of experienced doctors and staff to comprehensively treat all of your musculoskeletal problems. As the Physician Assistant to Dr. Johnathan Stieber, the Spine and Scoliosis Physician, and Specialist, Kaelyn Triggs plays a crucial role in ensuring patients receive outstanding patient care. 
Kaelyn has been a part of the OrthoManhattan team for over 5 years, she is a board-certified Physician Assistant specializing in the evaluation and care of adolescent and adult patients with spinal disorders and deformities. Kaelyn's passion for providing comprehensive patient care shows in her understanding of the value of patient education. Her top priority is providing patients with effective tools to help assist in full recovery and return to pain-free living as soon as possible. 
Learn more about Kaelyn Triggs and her role at OrthoManhattan: 
What do you do at OrthoManhattan?
I am the Physician Assistant to Dr. Jonathan Stieber the Spine & Scoliosis Physician and specialist at OrthoManhattan. I am primarily involved with the patient care aspect of the practice. This includes seeing patients in the office for consultations, answering patients' clinical questions regarding their diagnoses and treatment plans, and assisting Dr. Stieber in the operating room. 
What drew you to OrthoManhattan?
I always knew that I wanted to specialize in orthopedics. Upon graduating from my Physician Assistant program, I was overwhelmed by all the job opportunities that were available. I was drawn to OrthoManhattan because it is a private, multi-specialty orthopedic practice with some of the top orthopedic surgeons in New York City. I knew the opportunity to work at this practice would provide me with the best teaching and learning environment that I would need to better develop my skills and knowledge and ultimately make me into the best provider I can be for our patients. 
What would you like every patient to know about OrthoManhattan?
I can say with certainty that all patients are provided the top care from the moment they enter our practice and are truly cared about. I think it is important to know that each physician will take ample time educating patients on their diagnoses and devising both nonoperative or operative treatment plans in order to achieve the best patient outcomes. Since we are a private practice, we have the ability to take extra time with our patients and hold their hands throughout their course of treatment. The physician teams and their staff are highly knowledgeable and will guide each patient throughout the whole insurance process and address all financial and insurance questions that may arise. 
What is your favorite part of your workday?
The favorite part of my workday is seeing postoperative patients back in the office for the first time after their surgery. Being indicated for a surgery can be a very scary and emotional time for patients. Seeing them back after their procedure and hearing how great they are doing or saying "I should have done this sooner" is such a humbling and rewarding feeling!
What do you enjoy doing when you're not working?
When I have the time to take off work I love to travel and explore new places I have never been to. I also enjoy escaping the city to go on hikes or play golf! 
What is your favorite thing about being in New York?
My favorite thing about NYC is the food. I love trying out new cuisines and restaurants. I wish I could try out every restaurant but there are just too many! I also love biking, going to museums, and meeting up with friends for a park day.