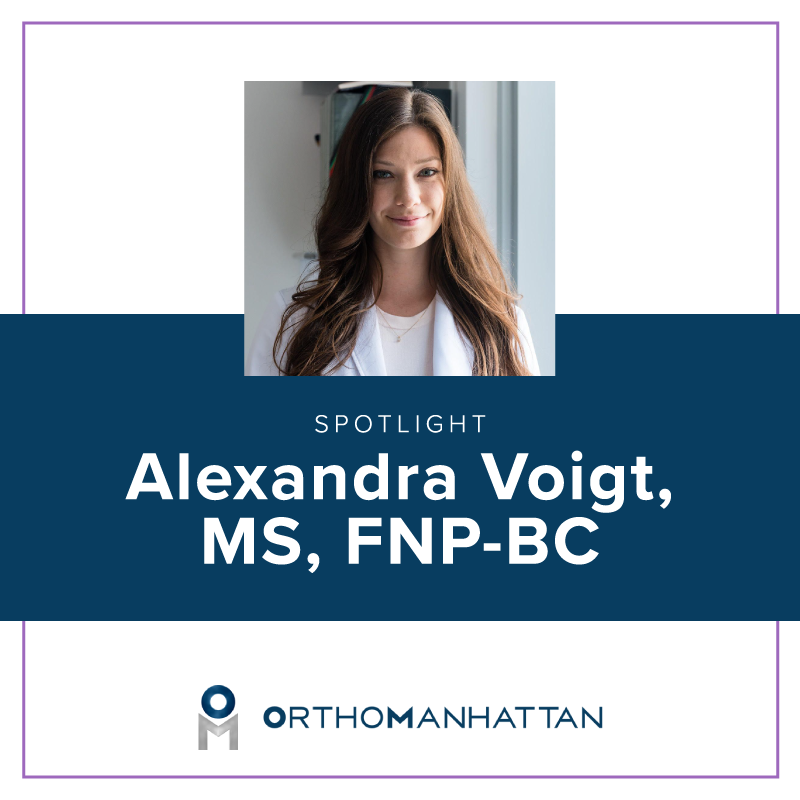 OrthoManhattan is a multi-specialty orthopedic surgery practice that brings together an outstanding group of experienced doctors and staff to comprehensively treat all of your musculoskeletal problems. As a nurse practitioner who works with Dr. Adam Cohen, Alex Voigt helps throughout the entire patient experience from seeing patients for appointments to assisting in the operating room. 
From her time at OrthoManhattan doing clinical rotations during graduate school, Alex decided to join the OrthoManhattan team permanently and has been with us ever since. She strives to take personalized care to the next level – ensuring that the patient experience is seamless from start to finish! 
Learn more about Alex Voigt and her role at OrthoManhattan: 
What do you do at OrthoManhattan?
I am a nurse practitioner that works with Dr. Adam Cohen. We specialize in sports medicine, treating musculoskeletal ailments such as sprains, fractures, and arthritis. I spend time in the office seeing patients as well as assisting in the operating room.
What drew you to OrthoManhattan?
I started at OrthoManhattan during my clinical rotations for graduate school. After seeing the attention to detail and personalized level of care, I knew this facility was where I wanted to be. Because we are a private practice, we are able to deliver the care patients deserve without making any compromises – like rushing someone through an office visit or not returning a call as soon as possible. The small office feel also translates over to how my co-workers and I interact with each other. They are an amazing group of people that feel like a family.
What would you like every patient to know about OrthoManhattan?
One of the things that I love the most about OrthoManhattan is the complete control we have over the whole patient experience, and because of this, we are able to take personalized care to the next level. There is no getting lost in the shuffle with us which unfortunately can happen at larger institutions sometimes.
What is your favorite part of your workday?
That's a hard question to answer because no two days are the same, which is one of the great parts about my role. Being in the operating room ranks high on the list because it's such a unique experience. It's a very team-oriented atmosphere and there aren't distractions, which is hard to find in this day and age.
What do you enjoy doing when you're not working?
When I'm not in the office I'm spending time with my swiss mountain dog Jams, trying out new workout classes or traveling.
What is your favorite thing about being in New York?
From a work standpoint, I love practicing in NYC because of the incredibly diverse patient population you get to interact with. It's a great feeling being able to help someone get back to their best so that they can continue performing in their Broadway show or run the NYC marathon. On a more personal note, I think the energy of the city is unmatched. We have access to the best restaurants, shops and shows, not to mention having your choice of airports when it comes time for vacation!