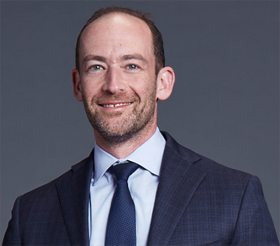 Minimally-Invasive Procedure Enables Patients to Regain Mobility Faster While Recovering at Home the Same Day of Surgery.
NYU Langone Medical Center in January became the first academic medical center in the New York City area to initiate a same day hip replacement program after successfully discharging a patient the same day of surgery.
Roy I. Davidovitch, MD, performed an anterior approach hip replacement on the morning of January 22, 2015, and the patient was discharged to his home from NYU Langone's Hospital for Joint Diseases in Manhattan by late afternoon. Two additional patients have successfully undergone the surgery since.
"With advances in soft-tissue-sparing techniques such as the anterior approach and innovative pain management protocols, patients are able to recuperate in the comfort of their own homes, much like they do after same day arthroscopy procedures like an ACL reconstruction," says Dr. Davidovitch, an assistant professor in the Department of Orthopaedic Surgery and Director of the Hip Center at NYU Langone. "The goal of this new approach is to return patients to their normal level of activity as quickly as possible and minimize the discomfort of surgery."
About 332,000 Americans undergo a total hip replacement each year, according to the Centers for Disease Control and Prevention, principally to treat chronic pain and mobility issues caused by age-related wear and tear, arthritis, fractures, and other conditions.
Traditional hip replacement surgery requires dividing muscles and tendons from the femur bone to surgically access the hip joint and implant the replacement. Post-surgery hospital stays typically range from two to three days—and some patients require further care at a rehabilitation facility following discharge from the hospital.
Dr. Davidovitch has been committed to advancing anterior approach hip replacement, making it as minimally invasive as possible to accelerate rehabilitation time and decrease the risk of complications like dislocation and leg length discrepancy. He was the first surgeon in New York City to perform the minimally-invasive anterior approach, and has since successfully performed more than 1,000 such procedures, seeing recovery time decrease incrementally—until he achieved the same-day discharge of a patient earlier this year.
"Dr. Davidovitch's same day hip replacement exemplifies our mission to bring patients the most recent treatment advances in orthopaedic surgery in an effort to improve their surgery outcomes and satisfaction," says Joseph Zuckerman, MD, the Walter A.L. Thompson Professor of Orthopedic Surgery and Chair of the Department of Orthopaedic Surgery at NYU Langone Medical Center.
"I would not have been able to perform this surgical feat without the multidisciplinary care approach that underlies treatment at an academic medical center such as NYU Langone," Dr. Davidovitch says. "We worked together with anesthesiology, nursing, physical therapy, occupational therapy and social work to ensure this recent success, and we hope to emulate it and make it as much a part of our hip replacement program as possible."
Dr. Davidovitch says the best candidates for same day hip replacement surgery are those who do not have cardiac disease and have a strong support network to aid in their at-home recovery.
To learn more about same day hip replacement surgery, click here.