History
A 54-year-old male management-consultant and fitness enthusiast presented to Dr. Stieber complaining of low back pain. The patient had experienced low back pain for more than one year and graded it at a 10/10 at its worst and 7/10 on average.
Previous treatments include anti-inflammatory medications, Prednisone, Vicodin, muscle stimulation, formal physical therapy, therapeutic massage, and epidural steroid injections. Non-surgical treatment only provided limited relief.
Examination
The patient's exam revealed markedly decreased lumbar (low back) spine range of motion secondary to substantial pain with palpable muscle spasm.
Pre-treatment images
Pre-operative x-rays demonstrated a Grade I degenerative spondylolisthesis with instability on flexion-extension radiographs (Figures 1, 2). MRI findings (Figure 3) revealed disc bulging and uncovering of the intervertebral disc in addition to spondylolisthesis.
Figure 1. Standing flexion x-ray from the side (lateral); bending forward at the waist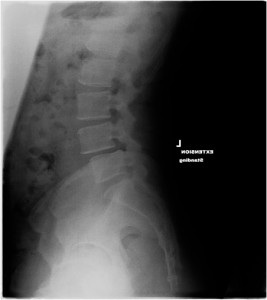 Figure 2. Standing extension x-ray from the side (lateral); bending backwad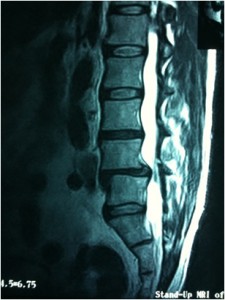 Figure 3. Lateral MRI demonstrates spondylolisthesis at L4-L5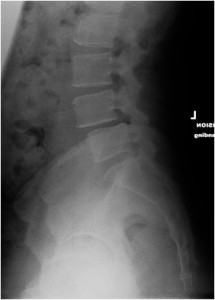 Figure 4. Lateral x-ray
Diagnosis
Degenerative spondylolisthesis, Grade 1
Selected Treatment
The patient underwent a minimally invasive L4-L5 direct lateral interbody fusion* with percutaneous posterior instrumentation (interbody device, screws, rods).
*Direct Lateral Interbody Fusion may be abbreviated DLIF or XLIF
Post-operative Image
Figure 5. Post-operative lateral x-ray at 6 months after spine surgery. The interbody device can be seen between the fourth and fifth lumbar vertebral bodies (L4-L5)
Outcome
The patient returned to his regular workouts at the gym by his 3 week follow-up with complete resolution of his pre-operative back pain.